Disinfection services for Shropshire
April 2, 2020

Posted by

admin
I'm writing this for my lockdown headquarters!
The recent coronavirus outbreak has had a huge impact on our lives and highlighted the need for good sanitising practices for all businesses and the public, something most of us have taken for guaranteed for such a long time.
We have been trained in infection control for well over a year and always offered a niche service but it has always been a service with a niche market until now. The world has gone hygiene crazy rightly or wrongly and demand for disinfection and deep cleaning of offices, schools, homes etc is at an all-time high.
How can we help
JL Carpet Cleaning offers a professional disinfection service for Shropshire and surrounding areas. Our 2 step service involves all touchpoints cleaned and treated 1st for maximum coverage using a specialist disinfectant cleaner. An antimicrobial product is applied via a fogging machine which atomises the product into a fine light fog. The fog allows the atomised product to get everywhere and over all surfaces to guarantee complete room decontamination.
How does disinfecting work
Our disinfection services in Shropshire work by currently using 2 products. A powerful disinfection cleaner capable of killing coronaviruses to wipe all touchpoints. Then an antimicrobial product called 429 plus which is fogged.
This has been independently tested against the A/H1N1 swine flu virus amongst Mycobacterium, Tuberculosis, MRSA, Medical Waste Treatment, Feline Calicivirus (Human Norovirus surrogate), Feline Coronavirus (SARA surrogate), Enveloped and non-enveloped virus, HIV and C. difficile.
Its uses four biocides and has a polymer backbone which means its effect can last sometimes for weeks and sometimes months on surfaces after being applied depending on usage and will kill 99.999% of bacteria with a kill log of 5 ( Chlorine bleach has a kill log of 3)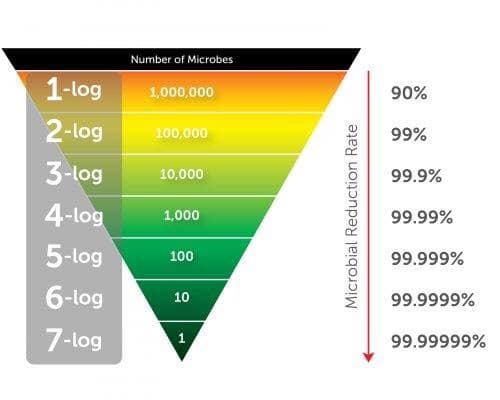 Where can be sanitised & disinfected
We carry out our 2 step clean in helping in combating infection after an outbreak or for preventative measures to ensure areas are kept hygienically clean. This means a wide variety of places can be cleaned and disinfected for commercial and domestic clients alike.
Commercial
Most Commercial premises with staff or public such as care homes, rental properties, hotels, nurseries, offices, schools, public transportation and restaurants can all benefit from fogging and our disinfection service. Ideally, general cleaning should take place 1st and then our service.
Domestic – Peace of Mind Package
Whist not as on-demand as commercial clients. We can offer our services to domestic customers too in our Piece of mind package. Properties can be fogged and all touchpoints disinfected as a one-off for example prior to moving into a new home or your existing home. This includes all touchpoints cleaned, carpets cleaned and rooms fogged with the antimicrobial for maximum reassurance. Contact us for more information and pricing on this bolt-on service. Watch more here >>>>
For added reassurance
We also offer our main carpet and upholstery services in conjunction with our disinfection services for a full deep clean with our extraction steam cleaning. With our truck-mounted offsite cleaning system, with our own water supply and all waste removed into the vehicle. Our truck-mounted cleaning system steam cleans carpets and soft furnishings with temperatures over 230 Degrees F. Ask us for more details on this unique system or watch the video of it in action below
As important as it is, regular cleaning isn't enough to kill off some viruses and bacteria which is why we can offer you a 2-step clean & disinfect. We're ready to help when you need us.
If you feel we can help you please call us on 01952404214 or info@jlcarpetcleaning.co.uk.
Signing off……….