Carpet fibres, a guide to which carpet to buy
June 3, 2014

Posted by

admin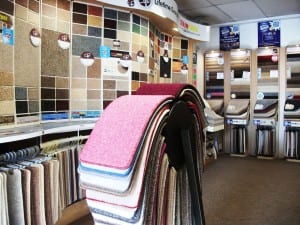 Choosing a carpet can become a bit of a headache. Walking into carpet shops and seeing the vast array of samples can sometimes be very daunting. What type of carpet are you planning to buy
What type of  carpet Fibres will you choose?
What style or type will you buy?
What type of finish and thickness will you have?
These are obviously all personal choices when it comes to choosing your carpet but the following information will help you get familiar with carpet fibre types so you can make a more informed and educated decision on choosing your next carpet when it comes to that time.
CARPET FIBRES

Before we talk about carpet fibres its important to understand there isn't just one thickness or density to every carpet. Like all things the denser the  carpet pile, or thicker the carpet pile is the more expensive it will become. Some terms to remember are as follows:
Gauge
The gauge is the distance between the needles on a tufting machine, The gauge is measure in fractions of an inch, and refers to the number of needles which are positioned across the width of the tufting machine. Therefore the more needles per square inch the denser the pile, and  the better constructed the carpet. Carpets with a high gauge count will wear at a much slower rate than carpets with a lesser count as the carpet has a higher density. This gauge is usually found in higher end wool carpets
Pile Weight
The weight, measured in the number of ounces per yard of carpet fibres ( not including the carpet backing ) A higher oz per yard would indicate a thicker pile i.e a 90oz would be far thicker to a 30oz carpet
---
Whilst there are many types of carpet fibres used in carpet and rug construction. There are four main types which you'll find are the most commonly used in carpet production today. Below we shall go through each type giving some pros and cons with each one.
POLYPROPYLENE (OLEFIN)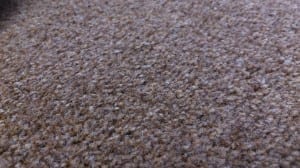 Polypropylene is one of the most used and versatile of the carpet fibres and is used in the construction of carpet backing also. It is also cheap to produce.
PROS
Highly stain resistant and moisture resistant
Chemical Resistant – Most chemicals and bleaches won't damage it at all
Solution dyed, making it highly resistant to sun fading, so keeps its colour longer
Its very strong and wears well except for resiliency factor (see cons).
It is easy to clean and remove stains from. (Except oil/petroleum-based stains – see cons)
CONS
Polypropylene is not a resilient carpet fibre. When crushed it does not regain its original shape easily. Traffic areas tend to lie down, showing "apparent soiling". Furniture marks can be permanent reminders to the owner of where his furniture used to be.
It sensitive to heat with a melting point around 300 degrees. Damage though can occur at lower temperatures.
Carpet Fibres can be damaged by Friction when dragging heavy pieces of furniture across the carpet
Oil-based stains may become permanent.
POLYESTER
Probably the least used out of the four main carpet fibres. Whilst again cheap to produce it has some limitations when it comes to being used in carpets
PROS
 it is usually solution dyed which makes it very resistant to bleaching and fading
Stain Resistant, though only to water based stains.
Low moisture Absorbency, therefore Quick drying
CONS
Polyester is difficult to dye and usually must be solution dyed which limits the choice
It is not resistant to oily stains, and in fact an oily spill or spot left without proper cleaning can oxidize and even chemically bond with and become part of the carpet fibre. You need to know that some of these spots just won't come out.
Pile flattening. Definite improvements have been made by heat setting and using finer yarns, but pile flattening can still be a problem. This is a characteristic of polyester, not a defect.
NYLON (POLYMIDE)
Nylon can be found as two types, nylon 6 & 6.6. In earlier days there was a difference between the two as 6.6 was regarded as being superior in terms of colour fastness, over years improvements now leave little between them. Nylon carpets cover a wide range of situations from contract to super soft luxury.
PROS
Wears extremely well. It even surpasses wool. Many manufacturers offer long wear warranties.
Good resiliency. Nylon can be crushed for long periods and still regain its original shape.
Non absorbent,
Mildew resistant
Nylon responds very well to most professional cleaning methods and treatments.

Carpet cleaning

on a regular basis, will improve it longevity
CONS
The Nylon carpet fibre is sometimes acid dyed, so it can have problems with bleaching, fading, urine reactions, these carpets sometimes have

stain protector

applied. This will need reapplying yearly. These cons don't apply to solution dyed nylon
WOOL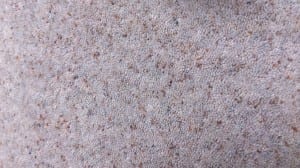 Wool comes from the fleece of sheep or lambs. This is one of the oldest carpet fibres used by man. It is still one of the best carpet fibres available for a carpet, but also can be the most expensive.
PROS
Wool has excellent soil hiding capabilities. Wool will not show some soiling as much as other carpet fibres. The reason for this is that wool is an opaque fibre (as opposed to synthetics which are transparent) and wool doesn't refract and reflect light like synthetics.
Wool is very strong. Wool used in well-constructed carpets will stand up to the heaviest traffic and still look beautiful. Most heavy traffic areas in hotels, pubs restaurants use wool in some shape or form
Wool is naturally flame retardant.
CONS
Wool is a very expensive carpet fibre to process. i.e the cleaning and preparation to produce the yarn. Therefore finished goods will be more expensive than manmade carpets.
Wool can Stain Easily due to its absorbency and ease of dyeing.
 Wool can be chemically sensitive to alkaline cleaning products above a pH of 9.5 after prolonged exposure especially bleach. This exposure will tend to make wool brittle and discolor somewhat and can cause permanent damage to the carpet fibres. It is recommended to keep the ph around 8 or below, and ideally it should be left in a mildly acidic state when having your carpets cleaned professionally.
 Rubbing Wool can cause fuzzing and pile distortion, this can help when cleaning stains. It is recommended to blot with a plain white towel only and not to excessively rub the carpet
Thanks for reading part 1, I hope this has been of some help. Check back next time when we go over carpet types and styles
by jared long